Residential Options, Inc. (ROI) is a 501 (c) (3) non-profit organization, established in July of 1984 by Sharon Wilkes,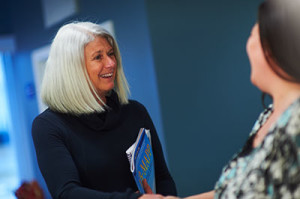 LMSW, BCBA, LBA who served as Executive Director through 2021. In December 2021, Sharon retired after 37 years of visionary service as the Executive Director but will remain on as Chairwoman of the Board for a two-year period, beginning in 2022.
Sharon's departure has resulted in a restructuring of our Board of Directors, including the newly appointed Interim Executive Director, Jenna Minton, Esq. Other leadership revisions include the delineation of two Clinical Director roles: one for our residential services led by Dominique Miller, M.Ed., LMSW, BCBA, LBA and another for our ABA program (position to be filled in the future). Additionally, ROI has added two Assistant Director positions (clinical and operational) filled by Laura Tatroe, LMSW, BCBA, LBA and Shauna Soergel, MPH, respectively. Our other Director positions remain unchanged and include our Director of Finance, Michael Kendrick, MS and Director of Human Resources & Compliance, Jonathan Fredericks.